Core Team
---
Vision:
Our Vision is to become a world leader in design, development, and manufacture of a complete package of power electronics for special & critical application of world defence forces.
Mission:
Our mission is to achieve our goal through In-house R&D, Support of Academia & JVs through futuristic technology partners from different parts of the world.
Team:
Inverbras Electricals is led by team of technocrats with market experience of 60+ years in diverse fields.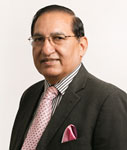 Mr.Ram Prasad
Chairman & Managing Director
Electronics Graduate having 45 years of rich experience and specialization in Marketing,
Strategic Business Planning, Production Control, Financial Management, Transfer of
Technology & General Administration.
Deeply involved in steering on-time execution of multiple large scale prestigious Defence
Projects and closely associated with Defence Public Sector Units like BEL, HAL, BHEL, DRDO & ISRO
.
Served in the capacity of Country Manager & Advisor for multinational companies such as Deutsch France, Hellermann Electric, UK; Electrovac, Austria; Servel Group; Garg Associates, Delhi; Verensol Technologies, Pune and Hindustan Electro Technology, Bangalore.
Currently Chairman & Managing Director of Inverbras Electrical Pvt Ltd, Bengaluru engaged in Design, Development & manufacturing of Power Electronics Equipment mainly for Indian Defence Industries.
Mr.Ram Prasad believes in closely engaging and partnering with customers to deliver results in the most Cost-effective and efficient manner.
Mr.Ram Prasad is recipient of multiple awards including President of India Award, HET Excellence Award and Karnataka Udyog Award for exemplary contribution in the field of Industrial Growth and bringing new technologies to India.

Mr.Puneet Choudhary
Director
Management graduate having 20+ years of experience and specialization in Finance, Marketing, and Business Expansion & New Partnerships.
With experience of working in Infosys, he has gained exposure to the world of Corporate, Manufacturing & Marketing with Indian Defence Industry.
Involved in business development activity for various companies in India and abroad for their business expansion in the field of Aerospace, Defence, Space, DRDO's, HAL, Indian Defence, Telecom etc.
In his current role of Director – Operations, Marketing & Finance of Inverbras Electrical Pvt Ltd, Bengaluru, he is designing & developing new products related to Power Electronics to cater to the ever-growing demand in Indian Defence. Mr.Puneet is also involved in looking at new Tie-Ups and Ventures for promoting the modern & cutting edge products from the Indian startups to the Indian Defence Industry – Unmanned Rescue Boat (Over Water Drone) and Tethered Drone.
He is working closely with the Top Academia like IIT's, NIT's, RRCAT and institutes like DAE's for developing products that are futuristic like Full Cell Based Power Electronics, Additive Manufacturing, Electric Vehicle Charging, Hydrogen Generation Plants, Cyber Security, Artificial Intelligence, Blockchain.
Mr.Puneet is a member of Additive Manufacturing Society of India, Society for Indian Defence Manufacturers, CII, Industry Associations and Associate Member to National Cyber Safety & Security Standards to work & build the ecosystem & spreading awareness in India for the areas mentioned above.

Mr.V N Prabhu
General Manager – Design & Quality



Mr.Raja Murthy
AGM – Operations



Mr.Bestin Selvam
Manager – Operations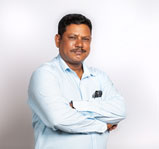 Mr.Ramesh Naik
Supervisor - Operations